Are you in need of a divorce attorney in Dallas? We've represented thousands of clients with legal services in divorce in Dallas, Texas. No matter your situation, we can help. Call us now for a free consultation!
Contested & Uncontested Divorce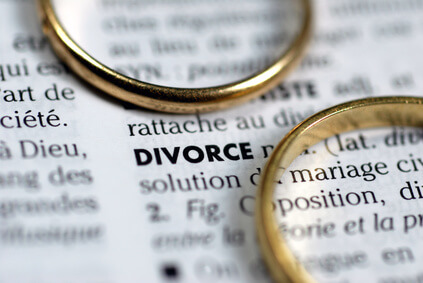 Uncontested
Uncontested divorces will typically be finalized in 60 days from the day we file your divorce petition. These are the most affordable divorces suited for parties who have amicably agreed on all the terms of their property division, child custody, and child support.
Contested
Our law firm has also represented countless of clients in contested divorces with property and custody issues are involved. We have the experience to guide you through the complex legal processes which in many cases can be simplified by having the right Dallas divorce attorney on your side.
Do I Need a Divorce?
In Texas, a marriage is a legal relationship between a man and a woman or in some jurisdictions between two people. To dissolve your marriage, you must file a divorce petition with a Texas court. Pursuing a divorce is a stressful event filled with difficult choices and risks. We will help you understand your rights, obligations, and other options to help you make good decisions regarding your divorce.
Where Do I Start?
A personal conference with an experienced Dallas-based divorce attorney is the place to start your divorce. Our family law firm will explain and help you understand the choices available in divorce. Most people are not aware of the benefits the legal system can do to help or to protect them. We will make certain that the choices you make are the best choices for you and your family. Your family law matter must be presented to the Court in a way that the Court is made aware what and how much each party contributed to the marriage financially, what was the party's role with the children, how will each party provide for themselves and the children during the divorce, and what are the children's needs.
What Choices Do I Have?
We will make sure you know how the law relates to your divorce and your situation. As experienced Dallas divorce attorneys, you will know whether you are entitled to alimony while a divorce is pending. You will understand how the law relates to a visitation of the children by the parties and the party's financial responsibility to the children of the marriage. We will discuss and explain the matter of alimony, temporary spousal support, temporary child support, or any other procedures that will benefit your side of the case.
What if I Have a Common Law Marriage?
An informal marriage, usually referred to as "common law marriage" is usually misunderstood by most people. We will explain the law relating to your relationship if you declare a common law marriage. In general, you must satisfy three requirements. The common law requirements are that you lived or cohabitated together, that you represented yourself to others as husband and wife, and that you both believed that you were married in Texas.
Who Gets What?
Most people do not fully understand the community property laws in Texas. We will make sure you understand that when you divide your assets, you also need to divide your debts. We will make sure you know that you understand the laws regarding separate property and inheritance rights as it relates to community property. Our clients will also be informed about how the courts typically divide community property which is not a 50/50 split as widely believed by a lot of people.
Requirements to Get a Divorce
To file for a divorce in Texas, one of the spouses has to have been a resident of the state for a continuous six-month period; and, one of the spouses must have been a resident of the county where the divorce is filed for at least 90 days.
What is the Procedure to File a Divorce in Texas?
A typical Texas divorce requires the following steps: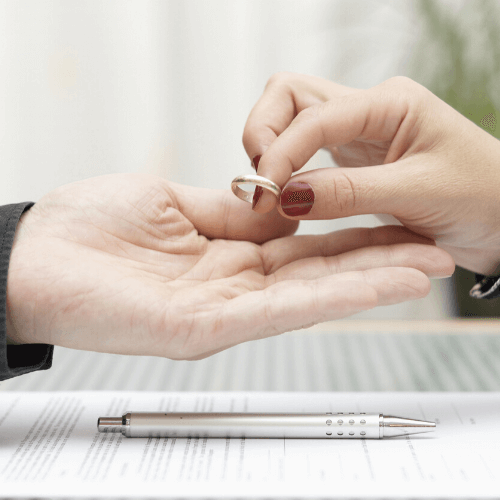 One Spouse (the Petitioner), files an Original Petition for Divorce with the court and has the papers personally served on (delivered to) the other spouse (the Respondent). If the spouses are working together, the Respondent can sign a waiver, giving up the right to be personally served with the papers.
At the time of filing, Texas courts usually issue a standard Standing Order that:
(a) requires that no assets disappear before they can be divided by the court, and
(b) requires that the spouse act civilly toward each other and not threaten or harass each other. If extraordinary situations are occurring, the court may issue a Temporary Restraining Order, the court must schedule a hearing within 14 days of issuance. At that time, the court may make the Temporary Restraining Order into a temporary injunction against both parties.
If no Temporary Restraining Order is issued, the Respondent must file a document called an Answer. Either party may also request the court for a hearing for temporary orders. Commonly, the court will also consider temporary orders, which will be in effect while the divorce is pending. Temporary orders usually involve temporary custody, visitation, and support of the children, and temporary use of property and servicing of debt. It can include temporary spousal support and the payment of interim attorney's fees as well.
If the spouses believe that information, financial or otherwise, is being hidden by the other party, the parties can initiate the process of "discovery". This is usually an expensive and time-consuming process which must be seriously considered by the party and done only if one of the parties refuses to exchange information and documents.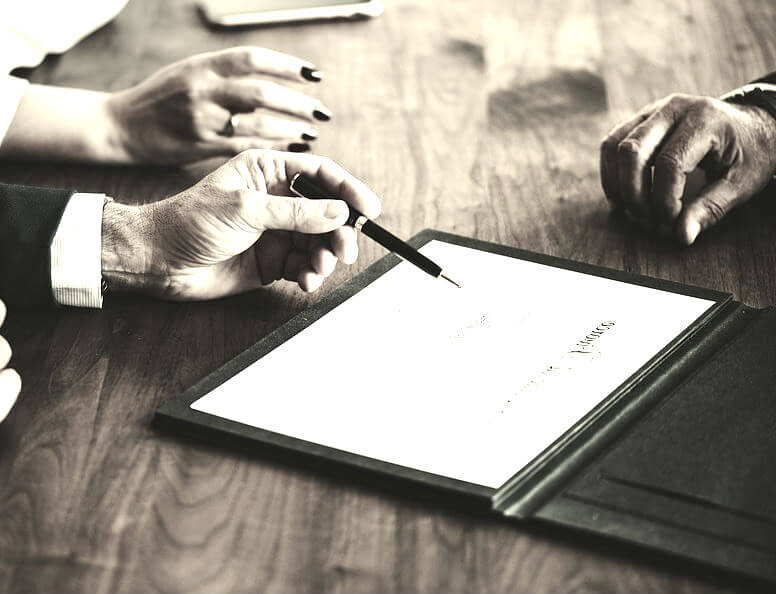 The next step for a party to consider if they wish to avoid expensive litigation is an out-of-court- settlement of the case, either directly or with the help of attorneys or mediators. If they can work out an agreement on everything, one of the spouses or attorneys will prepare an Agreed Decree of Divorce, which will contain all of the terms of the agreement. The spouses and their attorneys sign it, and eventually, the judge does as well. Out-of-court settlements are a lot more affordable and take less time compared to taking the case to trial.
If the spouses are not able to settle the case out-of-court, a trial date with the court will have to be set. Before the trial date, most courts require the parties to complete mediation. Mediation is an informal process allowing the divorcing parties to work with a neutral third party, known as the mediator, to negotiate and settle all terms of their conflict.
If mediation fails, the case must go to the final trial. At the conclusion of the trial, the court will make a ruling on the entire case. A Final Decree of Divorce will be prepared presented to the judge for signature. The Final Decree of Divorce will contain all of the court's rulings and will resolve all issues pertaining to the divorce, and is binding on both parties.
When a person is unhappy in their marriage and there is no chance that the marriage can be saved, a person may want to file for divorce. In some cases, it is better to end the marriage before things get really hostile. When a person is going through a divorce, they should hire or at least consult with a family law lawyer. Even what seems like a friendly separation may turn bad very quickly. These are 5 reasons a person needs a divorce lawyer.
Why Should You Hire a Divorce Attorney?
1) Do Not Understand the System
The family court system can be very complicated and confusing. If a person does not understand the process or the legal system, they can be in a lot of trouble in the court system and may not get a fair settlement. There are certain legal documents that need to be filled out in a certain way and if they are not done correctly or on time they can be a big problem. The lawyers are there to make sure their client gets a fair settlement and they are not taken advantage of. They need to make sure their client is treated fairly and justly by the court system but more importantly by the other party. If something is done incorrectly, this can put the entire case in jeopardy.
2) Objective
Even when a person files for divorce, it is still an emotional and stressful time. Both people involved in the divorce may experience feelings of sadness, depression, anger, confusion, and a range of other emotions. When going through these emotions it is hard to be objective. It will take some time to work through these emotions and during this time a person may make decisions based on these emotions. A lawyer is an objective party with no emotional attachment in the case. They can look at things in an objective manner and information their client if they are getting a good deal. With elevated emotions, it may be hard for a person to think correctly and may have the intention to harm the other. The lawyer can help stop emotions from ruining a divorce case and guide the party through the system and court procedures.
3) Additional Options
Family law attorneys know and understand the varied legal options for the case, much more than the average person. They may be able to recommend a settlement that a person would have never even known existed or that was legal. A lawyer will help develop a settlement that is fair and reasonable taking into consideration all factors related to the case. They will make sure their client gets a fair and equitable settlement. They will also be able to look at the settlement offer from the other side and inform their client if it is fair or if they need to submit a counteroffer or reject it entirely.
4) Paperwork
When a person is taking any legal action including getting a divorce, they need to be prepared to spend hours drafting the correct paperwork. There are so many forms that need to be filled out and information that needs to be recorded that it can be overwhelming. If the paperwork is not filled out correctly, this can delay the process of divorce even further. If a form is not submitted, this can also lead to a lot of trouble and delay for a party. A divorce lawyer knows which forms need to be filled out, all of the information to include, and the places to submit this information. Judges are getting tired of seeing paperwork completed incorrectly and missing information, it is best to allow a lawyer to handle all of this. Most documents prepared by nonlawyers run the risk of being rejected by the court.
5) Focus on the End Result
During a divorce, a person may focus on winning the case and getting everything they can. Sometimes this may seem just and other times they are doing this to hurt the other person. They may want to leave them with nothing out of anger and may fight over everything. When it comes down to it, a couch or a dining room table is not worth fighting about in court. The lawyer will help their client focus on the important issues to be litigated. They will get a fair share of the marital property and have a better chance of getting some necessary items. Lawyers will help their client see what is really important and make sure they get a fair deal in the divorce.
A divorce is an emotional time for all of those involved. A divorce lawyer can help a person reach a fair settlement and will work without allowing their emotions to overrule their better judgment. Any legal proceeding can have lasting repercussions to an individual. Be smart – hire an experienced family law attorney before you try to handle a case that can hurt you in the long term.
Divorce Statistics
The most common statistic about marriage that people quote is 50% of marriages end in divorce. While that may have been correct for our parents or grandparents – if they lived and married in the United States – it's now decades-old information that no longer holds true. The statistics vary based on the geographic area you reside in, the socio-economic group you are a part of, and the ages of the parties. In 2018, the United States actually has a much lower divorce rate of around 42% – 45% for first-time marriages. It is, however, true that second and third-time marriages have a higher rate of divorce.
Second-time marriages have a divorce rate of 60%

Third-time marriages have a divorce rate of 73%
To gain more insight into modern-day divorce statistics in the United States and Texas, we have gathered more information to deconstruct and analyze.
General Divorce Statistics
Not all general statistics that you've heard are wrong. We've gathered some more well-known statistics that are true:
Every 36 seconds – or 100 times each hour – one divorce is filed in the United States. Multiply that by 24 hours in a day, and we're left with a grand total of 2,400 divorces in a day. It may seem like a mind-boggling number, but it's a fact.

First marriages that do end in divorce average 8 years in length.

People tend to contemplate divorce for roughly 2 years before deciding to progress forward with the decision.

Roughly 3 out of 4 divorcees decide to remarry, and those who do remarry wait an average of 3 years to do so.
Divorce Rates of Men and Women by Age Group
When looking at a break down of the divorce rates of United States citizens, it becomes clear that the majority of divorces happen between the ages of 25 and 54. The age group with the highest rate of divorce, for both men and women, is 35 – 44 years old. We've gathered detailed statistics of divorce rates separated by age group and sex so that you can take a look for yourself.
Men
Of men ages 15 – 24, 3.8% will get divorced during this period of their lives

Of men ages 25 – 34, 23.7% will get divorced during this period of their lives

Of men ages 35 – 44, 29.4% will get divorced during this period of their lives

Of men ages 45 – 54, 26% will get divorced during this period of their lives

Of men 55 – 64, 12% will get divorced during this period of their lives

Of men ages 65 and over, 5.2% will get divorced during this period of their lives
As you will see, women have a slightly higher divorce rate percentages between the age groups of 15 to 44. However, after 45 women's' divorce rates are slightly lower than men's.
Women
Of women ages 15 – 24, 5.8% will get divorced during this period of their lives

Of women ages 25 – 34, 27.3% will get divorced during this period of their lives

Of women ages 35 – 44, 30.1% will get divorced during this period of their lives

Of women ages 45 – 54, 22.9% will get divorced during this period of their lives

Of women 55 – 64, 9.8% will get divorced during this period of their lives

Of women ages 65 and over, 4.2 % will get divorced during this period of their lives
Divorce Rates in Dallas, Texas
The interesting thing about Texas is that it is an outlier in the normal statistics of the United States. Typically, divorce rates are much higher in the southern U.S. states than they are in the northern and eastern areas of the country. However, Texas has one of the lowest divorce rates in the entire country. In fact, it has the fourth lowers divorce rate out of all the states.
The U.S. national divorce rate is 9.2 out of every 1,000 citizens, but Texas has a very low divorce rate of just 2.6 per 1,000 residents.
The "city of Dallas" Texas has some interesting statistics of its own, which only has a slightly higher rate of divorce than the state itself. In 2013, their statistics showed that the Dallas divorce rate was 2.9 divorces per 1,000 residents. In 2012 they had a divorce rate of 3.1 divorces per 1,000 residents, so the percentage dropped by 0.2 in one year's time. In fact, the divorce rates in Dallas Texas have declined every year since 1992.
Dallas's divorce rates by age match up fairly close with the national data mentioned above. Dallas men and women normally get divorced between 30 years of age and 44.
Staying Up To Date
From what we've seen here, up to date numbers and facts paint a very different picture for divorce statistics in the United States. Texas seems to be an island unto itself of lower divorce rates in the southern part of the U.S. If you're curious about divorce statistics, you can find more information here.
Dallas Divorce Attorney FAQ
Many people have questions when it comes to getting a divorce in Dallas, Texas. The following are a few of the frequently asked questions of divorce attorneys when it comes to a divorce proceeding.
Is there is a way to file for divorce using online forms?

If your divorce is very amicable, then you might be able to utilize online divorce forms. You must first determine if your divorce is uncontested or agreed. This means that you and your spouse are able to reach mutual agreements on all of the key issues. We do not recommend a person filing a legal proceeding to proceed pro se (without an attorney). You will be surprised by the payment options we have available for you to proceed with your legal proceeding knowing that it will be done professionally and without risk to you of having legal problems in the future.
What is the cumulative amount of time that it takes to complete a divorce in Texas?
The first step is for the spouse filing to initiate the process by drafting and filing with the court an Original Petition for Divorce. Then the other party will get served with the papers. The serving process is optional because if both spouses agree, then they do not need to be given the papers formally through a "serving" process. There are waivers of service that can be utilized to minimize the cost of a divorce.
Always be informed that there might be a Temporary Restraining Order in place to prevent the premature splitting of the couple's assets. After that, it will take a minimum of 60 days to conclude the divorce proceedings.
What will occur in the instance that my spouse is no longer to be found?
When a person cannot find one's partner, then there is a caveat in the law that affords for them to still file. The person is allowed to file through publication. This is a way of giving notice without physically serving the person. This can only occur if one has performed a Diligent Search for the spouse. Being diligent means making phone calls and every effort to track down the person. Filing a citation via publication or posting is a risky process because of due process requirements. Always consult an attorney if you are needing to use alternative service on a party.
However, an important thing to note is that you must have been living in the state of Texas for six months prior to filing. Additionally, you need to have been in the Dallas Texas county for the last 90 day period.
I've been hearing a lot about collaborative divorces. What do these types of divorces entail?
In 2001, Texas became the first state to offer collaborative divorces. It is a viable alternative to litigation and mediation. In this type of divorce, there is a lawyer for each side and some neutral third parties. The impartial professionals are a finance expert and a psychologist or other counseling professional.
What follows are a series of conversations and meetings. Parties must abide by Expectations to Conduct. Everyone looks to find an optimum solution. This structure works well for those who want to seek mutually beneficial arrangements actively. This process avoids the risks of taking the case to a judge who may or may not give the case the attention and time it requires.
Contact Our Family Law Firm
If you need a divorce in Dallas, Texas contact us now for a FREE INITIAL CONSULTATION.
More Family Law Services